Protelindo Donates Food Packages to PWNU, Church, Gusdurian Foundation and GKI Kebayoran Baru Task Force
Friday, 3 September 2021 12:00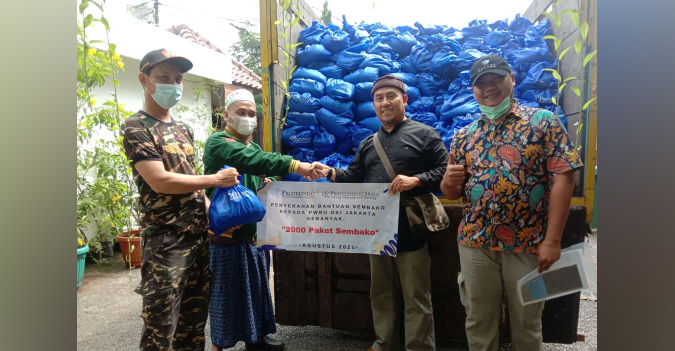 Jakarta – In response to the still high spread of the Covid 19 virus in July, Protelindo has provided Donation packages for selfquarantine of 5000 pcs containing 2.5 liters of rice, sardines and UHT milk. The package is being distributed to people in Jakarta and other cities who have instituted movement restrictions or PPKM. In the distribution of the donations, Protelindo has collaborated with several foundations including DKI Jakarta Nahdatul Ulama (PWNU) Regional Representatives, Baitul Muttaqin Foundation, Nusantara Satu Foundation in Kudus, Church Representatives in BSD Tangerang, Covid-19 Task Force for the Kebayoran Baru Church and the Church in Depok.
"We, on behalf of the church community in Kebayoran Baru, would like to thank you very much for the support and provision of this basic food donation. Hopefully we will always be healthy and pray that Protelindo will continue to advance and Indonesia will soon be free from the Covid-19 virus," said Errol as Chair of the Kebayoran Baru Church Task Force.
Thanks were also given to Protelindo from Farhan, PWNU DKI Jakarta Coordinator, "This donation is very important for residents who are self-isolating and PPKM. Hopefully this Covid-19 virus will disappear soon and we can work normally as usual. We say thank you very much for Protelindo, it is getting more advanced and successful.
Protelindo has also given a donation to the Gusdurian Foundation in August 2021 in the form of 500 pax PPE, 200 packages Vitamin and 1000 food packages consisting of 5 kg rice, corned beef, sardines and 1 box of tea. It is planned that this donation will be distributed throughout the Gusdurian network outside the Jakarta.
"Protelindo hopes that with the assistance of this Donation package, it can ease the burden on residents due to Covid-19, and we always remind the importance of health protocols in daily life to avoid the spread of the Covid-19 Virus," said Indra Gunawan, Director of Protelindo.